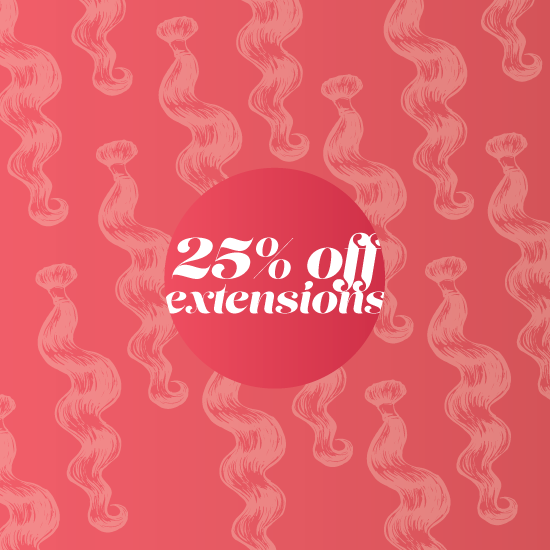 25% Off Extensions
Get luscious locks for fall and winter at 25% off!
From September 15 to November 30, 2021, our hair extensions are up to 25% off – hurry. This offer only comes around once a year… plus, it's perfectly-timed so you can  go-glam for the holiday season (wow-them at Thanksgiving, Christmas, New Year's & more)…
Remember, extensions are not just meant for those that want to add length (though we looove long locks), they also can enhance your hair by adding thickness/volume, even colour.
Offer Details (it's simple)
25% Off 4 or more bags (most common amount), and application
15% Off 3 or less bags and application
Book An Appointment
About Our Extensions
HQ is proud to partner with award-winning Babe Hair Extensions for all of our hair extension needs.
Babe's promise? Their 100% human hair is being used by salons and stylists worldwide for its ability to maintain a radiant and smooth texture without using synthetic coatings like silicone. Equally important is the attachment method. No glue or chemicals means no mess or damage to the client's hair.
Plus, our HQ salonsspa stylists have been trained using Babe's state-of-the-art education.
Babe offers 7 different types of extensions (your HQ stylist will recommend the one that's best for you), the three most popular are:
Fusion Extensions – Stylists have been using the fusion method longer than any other. Smaller individual pieces are used for adding length, volume or colour. Easily hidden when hair is down or in a ponytail.
Application time: 1 to 2 hours
One time wear
Lasts 2.5 to 4 months with proper care
Available in 18" straight
Hand-Tied Weft Extensions – Babe's latest and award-winning product line.
Application time: 1.5 to 2 hours
May be used up to 3 times
Lasts 3 to 6 months with proper care
Available in 18.5" straight and 22.5" straight
Tape-In Extensions – Babe's most popular method, add instant length, volume, and fullness – in no time.
Application time: 30 minutes to 1 hour
May be reused up to 3 times
Lasts 3 to 6 months with proper care
Available in 14" straight, 18" straight, and 22" straight
About Our Salon
Our full-service salon is newly renovated and one of the largest bumble and bumble salons in North America with 17 chairs and over 20 professional stylists/colourists. We pride ourselves on offering the very best in salon services and we're committed to making sure our team stays current when it comes to trends, new techniques and offerings through ongoing education and training.
About Us
We're Sherwood Park's premiere salon and spa. Rockin' since 1980, HQ salonspa (formerly Headquarters Salon Spa Laser) has 35+ years of experience providing salon and spa services to women and men from Sherwood Park, Edmonton and surrounding communities.